Family Roots Home Loan
Loan Products / Mortgage Program
*Due to the success of this program we have exhausted our funding and can no longer offer this loan product at this time. We do still offer HUD certified courses. 
Family Roots Home Loan
The beginning of a journey to bring Native communities the resources needed to make homeownership a reality. Five loans will be offered during pilot. Lending amount determined by affordability up to $250,000. Debt-to-Income ratio is 43% max. Housing ratio is 31% max. Interest rates will vary dependent on credit. Loan-to-Value is 95%.  Must not have any active collections or judgements on your credit report.  This loan must be for purchase of a home that would be the primary residence, no investment properties or second residences.  This loan can be used to purchase modular and manufactured homes if they are on a permanent foundation.  This loan cannot currently be used to build a home or buy and rehabilitate a loan. The residence must be in the state of Wisconsin. Completing our Pathways Homebuyer education class is a requirement for this loan.  Must have one year of employment with no gaps, breaks, or transfers.  You will be required to submit the past two years of tax returns, 2 months of bank statements, along with your income documents and identification. At this time only enrolled Ho-Chunk Nation tribal members are eligible.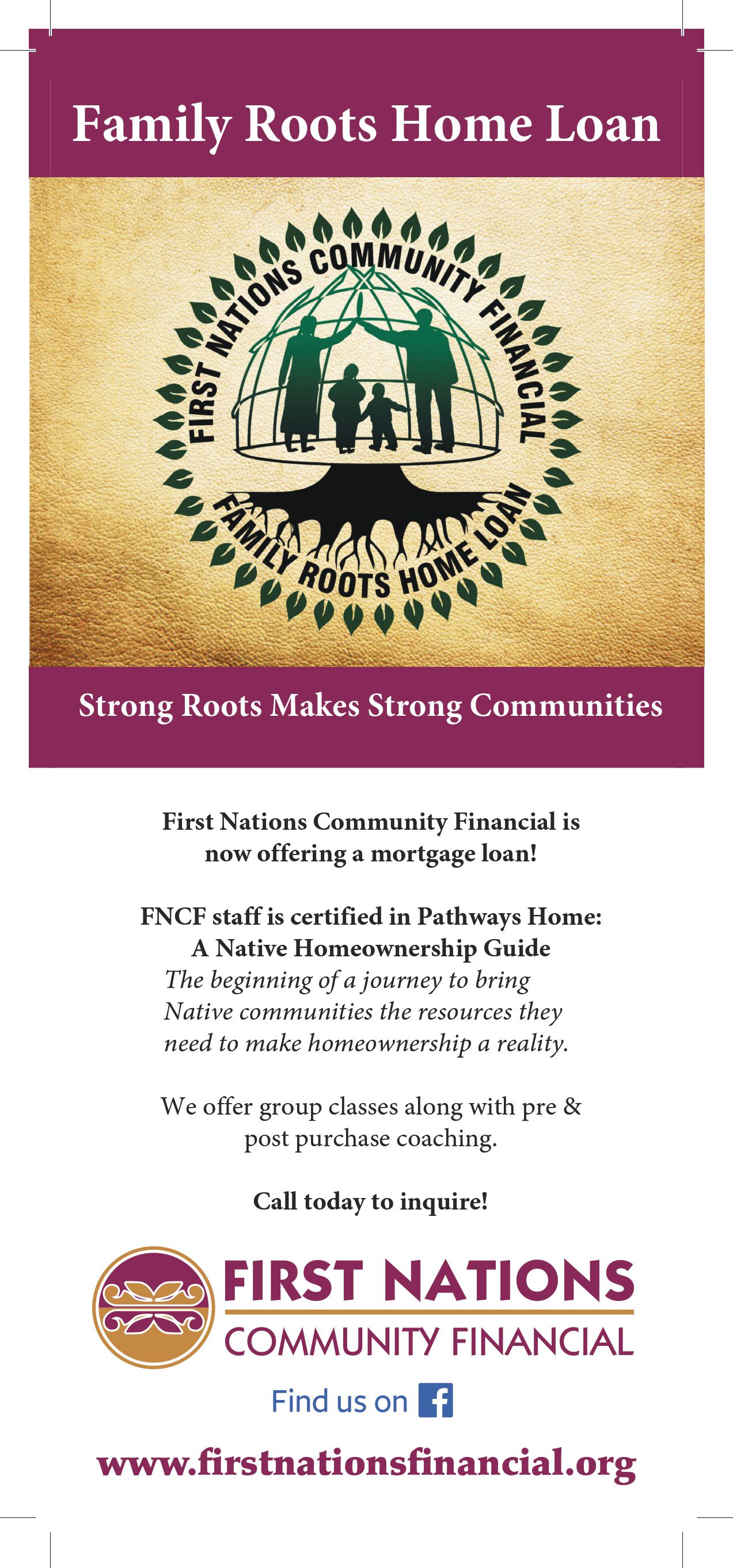 First Nations Community Financial is a state chartered not-for-profit Native Community Development Financial Institution (CDFI)
206 S Roosevelt Rd, Suite 123 Black River Falls, WI 54615
Upcoming Events
Indianpenuership Classes - Jan 26, Mar 22, May 24
Homebuyer Education Class - Jan 12, Feb 23, Apr 12, May 17
Office Hours (8-4:30 M-F)
Closed on the Following Holidays
New Year's Day (Jan 1st)
Memorial Day (Last Monday in May)
Mitchell Red Cloud Jr. Day (July 4th)
Labor Day (First Monday in Sept.)
Veterans Day ( November 11th)
Thanksgiving (4th Thursday in Nov.)
Ho-Chunk Day (Day after Thanksgiving)
Christmas Eve (December 24th)
Christmas (December 25th)
New Year's Eve (December 31st)