Holiday Loan
Loan Products / Holiday Loan
Holiday Loan
Holiday loans are now offered year round! Holiday loans are for up to $1000. These loans carry no interest only a one-time fee of $100 added at closing and rolled into the loan amount. The repayment period is up to 12 months. Must have a maximum DTI of 50% and no more than $10,000 in collections and judgements on your credit report. Must have been employed at least 6 months with no gaps, breaks, or transfers during that time.
Already created your Holiday Loan Account?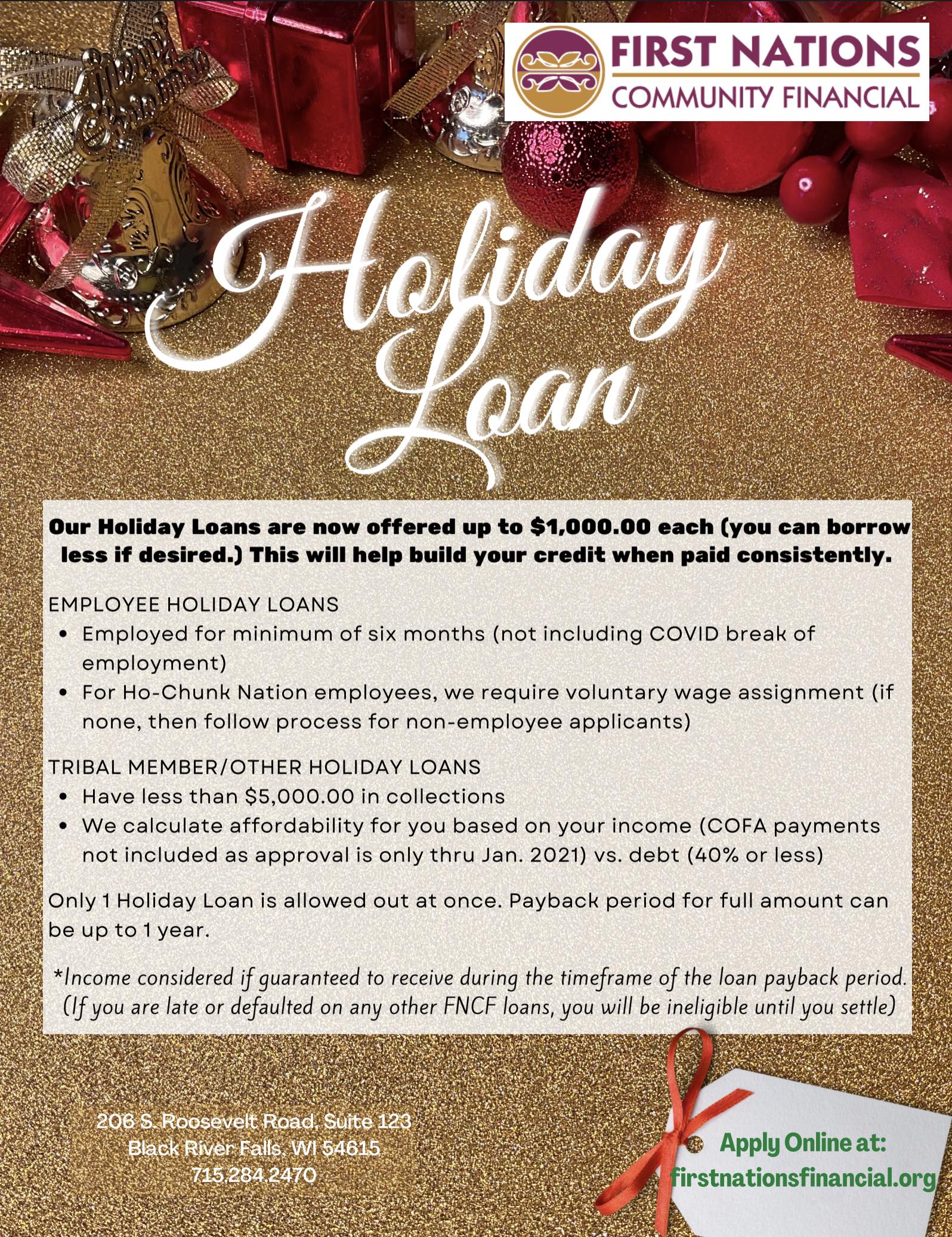 First Nations Community Financial is a state chartered not-for-profit Native Community Development Financial Institution (CDFI)
206 S Roosevelt Rd, Suite 123 Black River Falls, WI 54615
Upcoming Events
Golf Fundraiser - Friday May 13th
Indianpenuership Classes - August 3rd, 10th, 24th, 31st
Pathways Homebuyer Education Class - August 26, October 14
Office Hours (8-4:30 M-F)
Closed on the Following Holidays
New Year's Day (Jan 1st)
Memorial Day (Last Monday in May)
Mitchell Red Cloud Jr. Day (July 4th)
Labor Day (First Monday in Sept.)
Veterans Day ( November 11th)
Thanksgiving (4th Thursday in Nov.)
Ho-Chunk Day (Day after Thanksgiving)
Christmas Eve (December 24th)
Christmas (December 25th)
New Year's Eve (December 31st)
Connect with us
Email: fncf@ho-chunk.com
Phone: (715) 284-2470
Fax: (715) 284-2471
Subscribe to our Newsletter!